Large heavy duty precision Lathes - Automatic Threading System
New designed equipment『Automatic Threading System』,effectively reduced manpower, time costs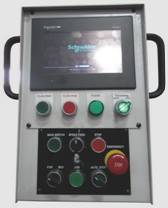 1. Schneider Control
(1) Human-computer interaction , User-friendly design
(2) Program Control .
(3) Sensor motor control on Automatic feeding.
(4) Inch & Metric Screen shot switch
(5) Inch & Metric Figure Automatic calculation switch function
(6) MPG Hand wheel make Calibration, Time-saving & Power-Saving
(7) X Axis Automatic feeding & retreating. No man-power to stay
watching during Threading operation. To save man-power that can
do the other job in the same time.
2. Mechanic Segment
(1) Fine lathing function, no need to adjust or move the original feeding set-up during the 2nd fine lathing.
(2) By Z axis rapid travel & manual movement of the cross slide gets into the threading range, fill in the
values of the 2nd fine lathing then starts running the Threading operation.
(3) Simply operation, User easy to use, Time saving